PERSONAL SAFETY ITEMS
---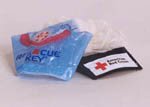 CPR Barriers
Black Key Chain....................$6.15
Disposable face shield and gloves. Fits neatly in a small 2 inch by 3 inch pouch with key ring attached. One use only.
Pocket Masks......................$13.15
This soft, flexible mask conforms to various facial features and provides an excellent seal when used on adults, children and infants. The mask's soft vinyl cuff easily conforms to provide an effective seal over an adult, can be disinfected, and the detachable one-way valve and filter are disposable.

First Aid Kits

Personal First Aid Kit....................$8.00
Take a personal first aid kit with you everywhere you go - bicycling, hiking, camping or jogging. Only 9 oz., this compact 5"x7" kit will never weigh you down. Attaches easily to your belt. For treatment of minor to medium cuts and burns. Contains assorted bandages, antiseptic towelettes, sterile pads, roller bandage, triangular bandage, scissors, latex gloves, tape and instruction card.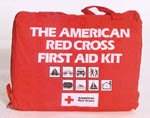 Family First Aid Kit....................$25.00
Ideal size for the home, car or boat. This specially-designed first aid kit simplifies first aid procedures. Unlike other first aid kits, the American Red Cross Family First Aid Kit folds into a compact 10"x12" soft-sided "pillow" that floats in water. Contains large sterile dressings, roller bandages, sterile towelettes, sterile pads, assorted bandages, waterproof blanket, triangular bandage, biohazard bag, scissors, pair of latex gloves, tape and instructions.
---
AUTOMATED EXTERNAL DEFIBRILLATOR
---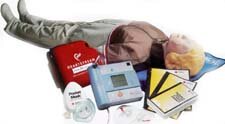 NEW ITEM!!

An AED is used to deliver an electrical shock to the heart of a victim of sudden cardiac arrest. The AED guides the user (even a lay person) through the defibrillation process with verbal instructions. Recent advances in AED technology make it practical to equip employees at virtually all companies with this life saving device. For more information, contact Heartland Chapter Workplace Programs at 402-343-7734.
---
PET SAFETY ITEMS
---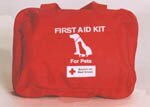 Pet First Aid Kits

Small ..................$14.50

Large...................$31.00














Pet First Aid Book

...........................$8.00
The American Red Cross, the nation's largest humanitarian organization, and The Humane Society of the United States, the nation's largest animal protection association, have created a first aid reference for cat and dog emergencies.  Pet First Aid provides assistance and guidance to people whose pets are in life-threatening situations.  The illustrated, 128 page manual presents: symptoms and care for common ailments and emergencies; instructions for creating a pet first aid kit; and tips on maintaining your pet's health and well-being.
---
REFERENCE ITEMS
---
First Aid Reference Guide
First Aid Tips Flip Chart....................$3.00
This quick reference guide provides essential first aid information, is well organized and easy to use. Clearly written and illustrated, First Aid Tips Flip Chart also provides easy step-by-step information on handling emergencies. The Flip Chart fits conveniently in glove compartments, desk drawers and first aid kits ( where it stays ready for quick review) in the event of an emergency.


---
GIFT CERTIFICATES
---

Gift Certificate....................Any Amount
American Red Cross gift certificates show others how much you care! Great ideas: an infant/child CPR class for new parents, a disaster kit for the holidays, pediatric first aid for your babysitter, educational materials for a teacher. Can be used toward the purchase of CPR and first aid classes, reference books, disaster training, first aid kits, disaster kits, American Red Cross apparel and imprinted merchandise.
---
To purchase any of these items, come by the Chapter or call (402) 343-7700 for more information.