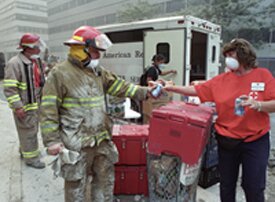 The American Red Cross continues to help thousands of victims from the September 11 terrorist attacks.
All donations to The Liberty Fund are providing direct assistance to victims and their families.
To date, over $160 million dollars has been given to 29,000 families. The Red Cross has offered more direct cash assistance than most other organizations combined.
To find out more about the help being provided, click here



Heartland Chapter volunteer Robin Zagurski spent two weeks in Manhattan.
In total, 44 thousand volunteers like Robin have come from across the country to help in New York City - - in the most massive disaster relief effort in the history of the American Red Cross.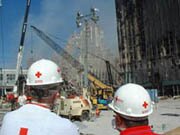 The help being provided includes more than 40 million dollars from the Family Gift Program which has been given to 2,300 family members of victims.
This additional assistance is being used for expenses such as rent or mortgage payments as well as other emergency needs. In addition, ten million meals (about 100,000 per day) have been served by the Red Cross since September 11th.
If you'd like to help the Heartland Chapter with a donation, click here